I'll be taking part in a panel event at the Hay Festival on 1st June with the brilliant Patrice Lawrence, Alex Wheatle and Sara Barnard whose books have all also been shortlisted for the YA Book Prize.
The event will be chaired by Jenny Valentine.
I'm really looking forward to the panel, it should be a chance for a really great discussion. If you'd like to join us you can book tickets here.
I'm absolutely thrilled that How Not To Disappear is on the 2017 YA Book Prize shortlist!
You can read more about the ten books on the shortlist here. It's such a diverse and exciting shortlist and really shows how strong YA is in the UK and Ireland right now.
The winner will be announced at the Hay Festival at a special event with Gemma Cairney on 1st June – you can find out more and book tickets here.
The brilliant YA Book Prize team champion each book for a week on Twitter – this week it's the turn of #TeamFurniss! You can see my Twitter chat here and find out about the inspiration for How Not To Disappear, the character I love most (and the one we all love to hate!), and how I researched every aspect of the book from dementia to immigration 1950s fashion and nightclubs!
I was lucky enough to be shortlisted for the Read Enjoy Debate (or RED) book awards in Falkirk this year for my first book, The Year of The Rat. It's always an honour to be on a shortlist and having lived in Scotland for a year I love having a reason to visit – but I wasn't prepared for quite how spectacular the RED Book Awards are!
I met the other shortlisted authors – Sarah Moore Fitzgerald for The Apple Tart of Hope, Narinder Dhami for Thirteen Hours, and Cathy MacPhail for The Devil You Know – along with the mastermind of the whole event, librarian Yvonne Manning, the night before. It was already clear from what Yvonne told us that it was going to be a very special day.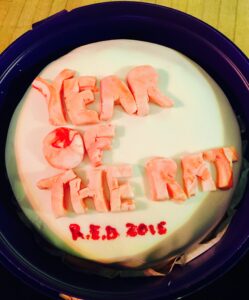 Each of the seven schools involved did a creative presentation inspired by one of the shortlisted books, and the reading group from the local young offenders institute had written a script which was performed by students from the other schools. The thought and work that had gone into these responses was incredible. Each took a different approach and all were very original. I think I was the luckiest author as the students Bo'Ness Academy had made a chocolate cake for me as part of their presentation! I know all of us felt moved and privileged to see the students' responses to our books.
There was a competition for the best book review written by a student and we authors had the hard task of selecting winners from the many brilliant entries in an 'alternative book cover' competition. You can see the design I chose below  – isn't it beautiful?
Narinder was crowned RED book award winner at the end of the ceremony but we all felt like winners just to be part of this amazing day, which all happened due to the enthusiasm and creativity of librarians and teachers. There could be no greater example of why librarians and libraries are essential in encouraging reading for pleasure, which all the evidence shows improves academic performance as well as developing empathy, knowledge and a greater understanding of the world. They are key to social mobility. That transformative gift, a love of reading, comes from finding the right book at the right time, and for children who don't have books at home that is only going to happen if they have access to a library.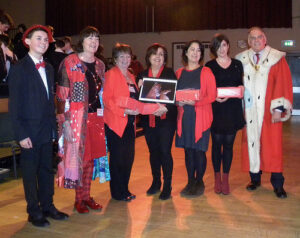 The Provost of Falkirk, a keen supporter of the RED awards, told us that he had to leave early to go to a budget meeting where cuts to libraries were being discussed. This is happening all over the country, including in Bath where I live, where the council is proposing the closure of libraries and the replacement of trained, experienced librarians by volunteers. Many school libraries are under threat as Children's laureate Chris Riddell has highlighted. 
Looking around the theatre in Falkirk full of teenagers who were enthused and excited to be involved in this day devoted to the sheer joy of reading it was all too clear to me what we will be losing if these cuts happen.
(You can read more about the RED Awards here on the Bookwitch blog – we were lucky enough to meet the Bookwitch herself who was there on the day!)
On Saturday 25th March I will be taking part in a very exciting panel at the Oxford Literary festival, chaired by Anna James.
The brilliant Juno Dawson and Costa-shortlisted Patrice Lawrence will also be on the panel – I can't wait!
You can find out more details and buy tickets here.
Had a brilliant time at the Simon and Schuster offices this week doing some filming with with the wonderful Perdita and Honor Cargill, the mother and daughter team behind Waiting for Callback, for Maximum Pop!
We had fun chatting, comparing notes, playing Heads Up (we were surprisingly good at this) and getting *extremely* competitive in a YA Quiz. Who won? Well, that would be telling… All will be revealed on Maximum Pop! soon. As you can see from the pictures we all took it VERY seriously!
The paperback of How Not To Disappear will be in bookstores on 14th July! If you'd like to find out a bit more about it click here to watch the beautiful brand new trailer, unveiled today. Hope you enjoy it! And if it does whet your appetite, How Not To Disappear is available for preorder from Waterstones.
It won't be in the shops until 14th July but copies of the new look How Not To Disappear paperback have arrived at the Simon and Schuster offices! Looking really stunning.
There might just be a giveaway or two over the next month! Follow me on Twitter for details. And don't forget, you can preorder from Waterstones here.
The brand new cover for the How Not To Disappear paperback has been revealed and very beautiful it is too!
As an author one of my favourite parts of the publication process is seeing the different ideas for covers and the work that goes behind the scenes to find a look that is right for the book.
The paperback will be in bookstores in the UK from 15th July and is available for pre-order from Waterstones right now! If you can't wait that long then check back here as there may some giveaways before then…
It's very exciting to be starting the new year with a new book again! Last year it was The Year of The Rat paperback, this year it's my brand new novel How Not To Disappear.
Second books have a reputation for being tricky – like the notorious 'Difficult Second Album' bands talk about. You have deadlines to meet, expectations, different pressures and all of this can push creativity into the background. It's hard to give yourself the time and space you need to find your story and allow it to take you where it wants to go.
How Not To Disappear tells the story of an unlikely road trip undertaken by a pregnant teenager, Hattie, and her great aunt Gloria who is in the early stages of dementia. There were times when I thought the three of us might never reach the end of the journey… but we did! Copies of the finished book arrived at the Simon and Schuster offices this week and are looking truly beautiful – a great way to start 2016.
How Not To Disappear will be published on 28th January in the UK and US. If you'd like to find out a bit more about how I came to write it and the wonderful women in my family who inspired the book you can read a post I wrote for Hashtag Reads here: https://t.co/rjv2cvqkhm
The gorgeous cover for my next book, How Not to Disappear, has been revealed! This is a REALLY exciting moment for an author – the moment when the story you've been slaving over for months and at times felt you'd never finish actually starts to feel like a real book. I absolutely love this cover, I think it really captures the spirit of the story and the two main characters, Hattie and Gloria. I'll be posting more about How Not to Disappear and the trials and tribulations of writing a second novel later this week… For now I'll just say it's been hard work (bit of an understatement) but I'm pretty proud of the result! The book will be out on 28th January 2016.