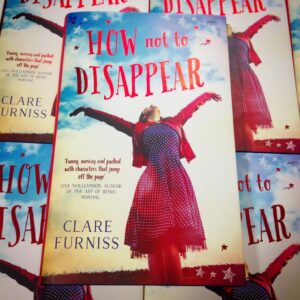 January 7, 2016
It's very exciting to be starting the new year with a new book again! Last year it was The Year of The Rat paperback, this year it's my brand new novel How Not To Disappear.
Second books have a reputation for being tricky – like the notorious 'Difficult Second Album' bands talk about. You have deadlines to meet, expectations, different pressures and all of this can push creativity into the background. It's hard to give yourself the time and space you need to find your story and allow it to take you where it wants to go.
How Not To Disappear tells the story of an unlikely road trip undertaken by a pregnant teenager, Hattie, and her great aunt Gloria who is in the early stages of dementia. There were times when I thought the three of us might never reach the end of the journey… but we did! Copies of the finished book arrived at the Simon and Schuster offices this week and are looking truly beautiful – a great way to start 2016.
How Not To Disappear will be published on 28th January in the UK and US. If you'd like to find out a bit more about how I came to write it and the wonderful women in my family who inspired the book you can read a post I wrote for Hashtag Reads here: https://t.co/rjv2cvqkhm