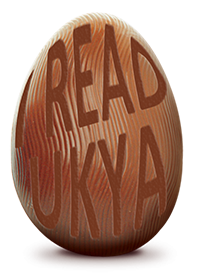 March 19, 2015
Welcome to the UKYA Easter Egg Hunt! One very lucky winner will win a huge grand prize of signed books by over thirty YA authors who write and live in the UK.

All you have to do is read this blog, count up how many UKYA branded Easter eggs you see in the blog, and follow the link at the end to the next blog. Keep going until you get back to the blog where you started, and add up how many eggs you've seen along the way.
Email your answer to: UKYA2015egghunt@gmail.com. A winner will be chosen at random from all correct entries, and contacted by email.
This closes at noon (UK time) on Sunday, 5th April, and is open internationally.
A bit about me and my books…
If this is your first time visiting my website, WELCOME!
I'm Clare Furniss, the author of the YA novel The Year of The Rat, which is one of the books you could win on the UKYA Egg Hunt! It's the story of Pearl, a teenager learning to live with 'The Rat' (the new baby sister whose birth caused her mum's death) while struggling to come to terms with her loss. But even though her mum's gone, somehow she still manages to be larger than life… It might make you cry but I hope it will also make you laugh. A Waterstones bookseller described it as 'like John Green set on this side of the Atlantic ocean' – so if you're a fan of John Green, The Year of The Rat might be for you! If you want to find out what other people thought of it you can click on the reviews page of my website. My next book will be out this year and it's called How Not To Disappear. I'll be talking a bit more about this on my blog next week so do check back…
And a bit about why I love UKYA…
I'm really proud to be part of the vibrant UKYA community – writers and readers who are passionate about books that young people (and some older people too!) will love. There are so many fantastic UKYA authors writing a huge variety of books – from fantasy to comtemporary fiction, historical drama to horror stories, romance to sci-fi action adventures, and every possible mash-up imaginable, it's all there just waiting to be read…
So get finding those eggs! And some awesome UKYA authors and books along the way. The next stop on the Egg Hunt is http://kerendavid.com/ukya-egg-hunt/ – if you haven't read any of Keren's books yet you're in for a treat.
Good luck!